COURSES
TEACHING RESOURCES
CLASS PHOTOS
TEACHING EVALUATIONS
TEXTnology In the Classroom
STATEMENT OF TEACHING PHILOSOPHY
Philosophy is a discipline that literally means "love of wisdom". It is a quest where one seeks to find wisdom through rational means. But the practice of philosophy is far more than an abstract quest. Rather, it is a beneficial one, not merely for the answers it seeks to gain, but in its ability to exercise our critical minds, allow us to perfect our logical written critical responses, exchange ideas, and engage and wrestle with the thoughts and ideas of great thinkers of the past as well as our current peers. The Objective of my philosophy courses and the purpose of my teaching is to accomplish all of the above.
While trying to achieve these objectives in the classroom, I understand that I have a duty to present the material with clarity and to also provide ways for my students to do philosophy.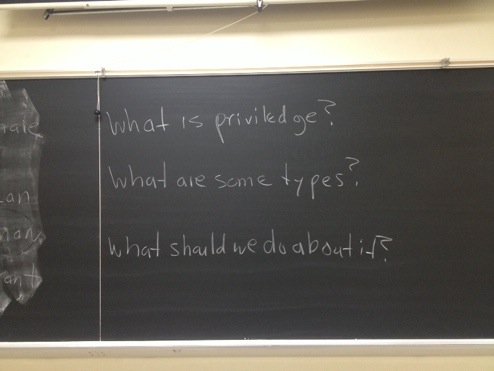 Doing philosophy does not just include digesting the material and philosophical concepts but to also get them to see how those concepts apply to other ideas, disciplines, and areas of life. To do this I believe in explaining perceived complex material in simple ways so that students are no longer intimidated by philosophy. In order to accomplish this my class content each session is determined by what my students find difficult. I usually require my students to send "confused Questions' to me electronically after they read the required reading. This allows for our next class session to focus on clarifying content that students need help in. Usually 3-5 concepts are discussed in class not in lecture form but through short explanations followed by student response activities and peer instruction. Through this way, I focus on being not merely a lecturer but a resource in the classroom that assists my students with understanding material not do the philosophy for them. I also serve as a coach of sorts as I provide them with examples, questions, and discussion activities as I get them to see the bigger picture.
Peer instruction serves a way to have a fresher and clearer way to look at material in which students can understand. It also serves as a type of teamwork and creates a communal atmosphere in the classroom. Students individually attempt to answer questions by themselves then they partner with another student in the class and discuss the content. At this time students are not just sharing ideas but even helping each other work through areas of difficulty before discussing them as a class.
I stress participation in my courses because I truly believe in "doing philosophy". My classes strive to be not just a series of lectures but an active and reciprocal journey between teacher and students. My classes emphasize critical reflections, intellectual exchanges, and the relevancy of philosophy to everyday situations that can only effectively happen with the active involvement of all participants. Peer instruction, advanced Electronic Confused Questions, and the utilization of electronic student response systems creates opportunities for students to take an active part in their learning.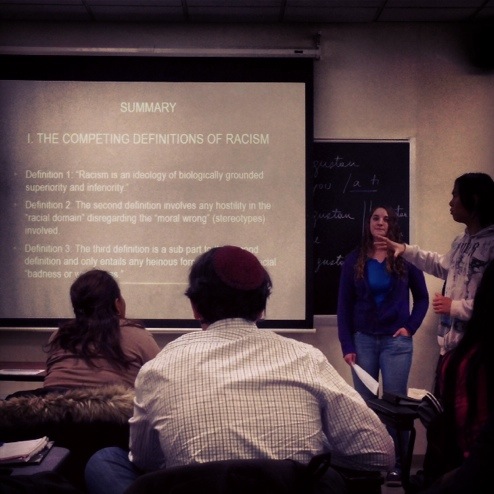 Visual learning and thinking is also used in my philosophy courses to aid in student learning. Technology helps me with this. My class explanations are done with Keynote to help students visualize arguments, see concepts in different ways instead of just in a book, and to assist them with note taking. I also utilize video clips involving pop culture as a connecting piece to illustrate philosophical concepts and to foster discussion that relate to the material.
As a teacher I believe in accessing my students in multiple ways because I believe in multi-intelligence. The work that I assign looks at more than one way of evaluating my students. Because I believe that students learn differently and excel at different types of assignments, I try to access on a variety of levels. I provide a variety of ways to participate in the course. Written assignments include not just 5-10 page long essay projects but also short answer and multiple choice responses.
I believe not just in high stake but low stake learning as well. I give Homework that focuses on not just providing answers but questions. My goal in other homework assignments focuses on having my students wrestle with comprehension and critical responses within the material not from a place of getting the answers right at first glance but rather instead to naturally wrestle with interpretation and critically respond to the material.
My teaching also involves laughing and using examples that students can relate to. Far is the day do I want students to think that philosophy is for old, boring men who sit in a chair all day away from society. I would like for my students to encounter a philosopher who is fun and can help them connect philosophy to other areas of life. This connection also involves treating my students with respect, dignity, and with accountability. Although there may be moments of laughter, I challenge my students to be responsible and serious as philosophy students and at the same time letting them know that I care for them as people.
Biasely, I believe that philosophy is the most intriguing subject in the world. My role as a philosophy teacher is to convince my students of that fact as I introduce them to philosophical content and provide a space for them to do philosophy. Both I hope will show how rewarding and beneficial philosophy is to their lives as thinkers and citizens.